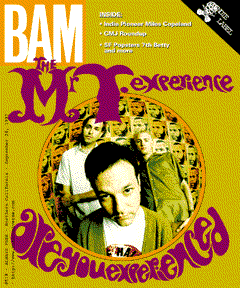 Dr. Frank is about to attend his first prom. The 33-year-old singer/guitarist for the Mr T. Experience never went to his own. He doesn't say if he was part of that cult of young men who couldn't find a date, although the hapless romantic who fumbles through Frank's songs suggests that might be the safest guess. He does, however, paint a picture of a burnout student body more concerned with getting stoned than social convention and jokes that he is unsure if any of the Mills High School Class of 1982 showed up at the gala.

He is not alone, though. Drummer Jym (who doesn't devulge his last name), 28, was a no-show at his prom, although he did accompany a young lady to hers the year after he graduated. Nor did bandmate Joel Reader participate in that most hallowed of teenage courtship rituals. The 21-year-old bassist recounts the night, still so fresh in his mind: MTX had a gig the night of the dance, but rather than disappoint his date, Joel invited her along, formal wear and all, for a real punk-rock prom. It wasn't exactly the pomp young girls grow up expecting from the affair, but it was enough to capture her imagination. "She kept following Frank saying, 'It's my prom, I want to get laid,' " Joel remembers. Across the table, Frank's lips curl into an impish smile. Sitting in Berkeley's Jupiter on a balmy summer afternoon, this unexpected twist in the conversation is the only time in our meeting that all three men's enthusiasm will focus on a common point. Jym, as is a drummer's nature, says little and seems itching to be somewhere else. The normally more-effusive Joel drifts in and out of daydreaming, occasionally adding something to someone else's comment. Today, only Frank relaxes into the interview, taking on the band-spokesperson role by default. He sips a Guinness and playfully ponders the second chance he is about to receive: In a few days, he will board a plane to England to attend his current girlfriend's prom-actually, her college graduation ball, but the formal affair is the closest he will ever get to experien cing the quintessential high school moment. He is obviously anticipating the reunion with his English rose, commenting that the stout's distinct flavor stirs pangs of nostalgia for the British Isles.

It's a charming sentiment for a man whose romantic touchstones are mapped out by his band's eight-album catalog. Where most guys will associate a certain perfume fragrance with each of his old girlfriends, or perhaps a restaurant or cafe they haunted while dating, each of Frank's girlfriends has her own record. Now, it seems Eros may have settled in for the long haul, as the woman he met in England during MTX's first European tour five years ago has inspired two platters of lovelorn pop-punk: 1996's Love Is Dead and this year's follow-up, Revenge Is Sweet and So Are You. And if songs like the former's "I Just Wanna Do It With You" and "That Prozac Moment" and the latter's "Here She Comes" and "Love Is Dead" provide any clues, it has been a rollercoaster long-distance love affair. "It has its frustrations," Frank says wryly. "Right now I'm just taking it one expensive plane ticket at a time."

The trip should provide him with a well-earned retreat from the career concerns weighing on his mind. MTX have wrapped up the last recordings for Revenge..., sessions dogged by technical problems that Frank admits may have been nothing more than the result of "collective hysteria." Now he is knee-deep in that netherworld bands inhabit between the completion of an album and its release. The song order for Revenge... has been finalized, the artwork approved-one song was even recorded and FedExed to LA for inclusion at the last minute. Now he has a good two months to be consumed with doubt, second thoughts and catastrophic predictions of the album's fate. It's a place he has revisited dozens of times, but if these usual concerns aren't enough pressure, Frank points out that this is the first time in MTX's 11-year career that the band has had to follow-up an album that people actually liked.

While Love Is Dead didn't make the Mr T. Experience a household name, nor turn its members into homeowners, it did become their biggest selling album. The band's seventh full-length release, a bouncy treatise on the bipolar nature of love and infatuation, was a totem of the pop-punk hybrid. But as the title suggested, there were some lyrical razors hidden underneath the hard candy shell. Still, if the angst of the message was disguised by the exuberance of the medium, it didn't hurt any. Love Is Dead struck a chord with a new generation of punk fans who do not hold MTX to the stringent punk-rock values of its predecessor. The album garnered universal rave reviews and helped the band earn the 1997 Bammy for "Outstanding Punk Band," a distinction which, at this point, should stand as a lifetime achievement award. "It's a little bit of a puzzle to me still," Frank says of the band's recent successes. "I had gotten used to the idea that no one was ever gonna hear about this band until they happened to come across a record at the Salvation Army 30 years from now."

When MTX began, "hardcore" had reduced punk to a single tuneless, manic rhythm and mired it in thinly disguised hippie politics. MTX's first three audacious releases-'86's Everyone's Entitled to Their Own Opinion, '88's Night Shift at the Thrill Factory and '89's Big Black Bugs Bleed Blue Blood, all recently reissued by Lookout!-brought simplicity, immediacy and a sense of fun to a stagnating punk scene.

Most of the songs came from the mind of Frank Portman, a brilliant guy with a penchant for celebrating stupid stuff, who had graduated with a B.A. in History from UC Berkeley and had deferred his enrollment in grad school at Harvard to pursue his music. He didn't write songs about El Salvador or Ronald Reagan. Rather, he indulged the classic, time-honored subject of girls; sang about Danny Bonaduce's drug bust; and recorded a musical rendering of his graduate thesis, complete with footnotes. Augmented by bassist Byron Stomatos, drummer Alex Laipeneiks, and guitarist, singer and M.I.T. graduate Jon Von Zelowitz, who brought some onstage theatricality with simpleminded in-between-song jokes, MTX played the fools with rebellious sincerity.

While today this may sound like the stuff of trailblazing invention, it was a formula that marked MTX as a joke band, at best, and as an irritant, at worst. "We were the most unsuccessful band in the history of unsuccessful bands," Frank says. "And everybody was embarrassed to be associated with us, including us."

Still, MTX defiantly continued. Aaron Rubin replaced Byron for a disastrous Big Black Bugs tour, and, by 1990, Lookout! was about the only label that hadn't rejected the band. With the help of this new ally, MTX ushered in the '90s with Making Things With Light, Milk Milk Lemonade and Our Bodies Our Selves, each release seeing Frank write about his odd romantic entanglements with increasing sophistication. But inter-band relations were getting strained; every record was going to be "the last one," and every year was going to see Frank returning to school. MTX had already been through several trial breakups, but Jon Von finally quit after 1992's Milk Milk Lemonade tour, and Alex jumped ship after the release of Our Bodies Our Selves the following year.

But just as MTX were entering a state of suspended animation, the sound they had sired was coming to fruition. A ground swell of punk-minded bands with unapolegetically catchy tunes were springing up in the East Bay, and Gilman Street, whose utopian vision MTX had immortalized in song years earlier, was their nerve center. But when the spotlight shone on Berkeley, it wasn't MTX that were caught in its erratic beam, but some former labelmates who had followed MTX's recipe and cooked up their own pop-punk pastry.

"My first thought when Green Day made it big was that our side won," Frank says, touting the triumph of composition over repetitive riffing. "But, looking back, the Offspring also made it big, so their side won too."

It's scary to think that if I hadn't been at Gilman Street that night, the band might have broken up." Joel is remembering the night he first met Dr. Frank in 1995. Turning the sound down on the WNBA game he was watching in his El Cerrito apartment where he lives with his sister, Joel recalls the timely encounter: "I'm lucky because at that time Frank's songwriting was really reaching a new level, which I think started with the 'Women Who Love Them' EP. I don't think it was a coincidence that Jym was on that. Frank finally had the perfect drummer for the band, so the pieces were in place."

Despite the cool detachment with which the baby-faced bassist now speaks of the event, it's still possible to glean some of the enthusiasm the then-17-year-old felt when confronted with the possibility of saving his favorite band from ruin. He had been introduced to MTX while still in the 8th grade when his sister discovered them while attending UC Berkeley in the early '90s. She would bring MTX records with her on trips back to her Watsonville (a rural town South of Santa Cruz) home. The band's "So Long, Sucker" 7-inch was the first punk-rock song Joel ever heard and it made an indelible impression. But with no one in Watsonville with whom to share his new passion, he indulged it by teaching himself bass and playing along to his MTX records Soon after, during a trip to Berkeley to visit his sister, she took him to his first show: the record release for Milk Milk Lemonade. "Frank and I have completely different memories of that show," Joel says. "He remembers it being somewhat of a disaster in that attendance was low and they were competing with a lot of other shows and they didn't play very well. But I have this idyllic, dreamlike memory of it; I thought they were great."

A few years later, while applying to colleges, Joel returned to Berkeley to check out the campus. During his stay, he officially initiated himself into the local punk scene by attending his first Gilman Street show. While there, his sister pointed out Frank in the crowd. "I had never had personal contact with one of my idols before, so I was a little skittish," Joel says. "I kept shooting sideways looks all night, which he noticed. I think I was making him pretty nervous." As the night wound down, Joel mustered up the nerve to approach him. He told Frank he had read that Aaron had left and asked about the band's future. Frank asked him if he played bass. "It hadn't occurred to me to even consider I was worthy enough," Joel says. "Then I started to get excited about the idea."

When Frank found out he was only 17 and lived in Watsonville, it ended any serious consideration, but to humor him, he and Jym let him audition, and eventually his enthusiasm won them over. "He would drive two hours, practice for an hour and a half, drive two hours back home, go to school the next day-he was very dedicated," Frank attests. Sitting on his couch wearing a Ramones t-shirt, studded leather wristband and a choke collar, the tousle-haired Joel is the consummate post-Dookie punk. But he has more to offer the band than just a tangible image. On-stage, his unbridled enthusiasm gives MTX a palpable energy. On record, his harmony vocals wrap around Frank's, softening the edges. He is also an indicator of a generation that embraces the band for all its uniqueness.

"When I listen to Frank tell me stories about the old days, it's hard to believe he persevered despite what sounds like a total lack of interest from anybody," Joel says. "It amazes me that people from the beginning didn't catch onto what a great thing he has going. It was really very immediate for me; he is producing some of the most amazing melodies and song structures I've ever heard, and I think that's what strikes a chord with people."

Unfortunantely, it didn't strike an immediate chord with Joel's parents. At first they were tolerant of his soujourns to the East Bay, but when his interest didn't wane, his father began attending MTX shows to see what Joel was wasting his time with. At one point he even took Frank aside. "He put his arm around Frank," Joel says, "and Frank thought he was going to get the speech where my dad says 'Well, I think you're doing a good thing here, but it's gone far enough and my son's got to concentrate on college and being responsible.' The speech sort of started out that way, but instead it ended up with, 'So that's why it's OK with me if Joel has to drop out of school. I just want you guys to take this as far as you can.' My dad basically gave Frank permission to ruin my life."

When Frank greets me at the door of his Oakland apartment wearing a t-shirt, black jeans and Chuck Taylors, it strikes me that, with the exception of a few pounds filling out his once lanky frame, he looks virtually the same as he did when MTX surfaced more than a decade ago. Before retreating to the kitchen for some drinks, he leads me into the living room. There is a feeling of displacement here. The room is walled by books where a collection of second-hand records and CDs should be; titles like Witchcraft of the Middle Ages and an Old Icelandic Dictionary line overstocked bookshelves along with The Lyrics of Noel Coward and Sir Noel Coward His Words and Music, affirmations of one of Frank's favorite influences. Hanging precariously on the wall, a portrait of George Washington presides over the room as it does so many elementary school classrooms. These may be the last vestiges of Frank's foregone career as an academic. The stuffed Cookie Monster draped in a guitar cord on top of the practice amp just below Washington's gaze is the only hint that this is the home of a working musician.

When he returns from the kitchen and settles on the couch, Frank officially welcomes me to his "dumb little apartment." "Dumb," is one of his favorite qualifiers. Along with synonyms like "stupid" and "silly," it's a word he uses to modify much of his experience so that pivotal events in his life, and by extension MTX's, become the result of accident, folly or just plain dumb luck. Yet, he is keenly aware that whatever force has been so active in his life has also been provident. "I've had the chance to linger in obscurity enough to make mistakes with impunity," he says, clutching a can of Budweiser on his lap. "At this point, I can do what I always set out to do much better than I could before. If you try hard enough and make enough mistakes, you get somewhere, but it's a sad thing in popular music that very few people get the chance to do that."

The greatest consequence of MTX's longevity has been Frank's growth as a songwriter. He has developed a knack for writing about the ordinary in an extraordinary way, investing simple melodies with lyrics that blend cynicism with sentimentality, naivete and an undercurrent of humor-a style that places him closer to Tin Pan Alley than Telegraph Avenue. Beneath the punk-rock presentation is an attention to compositional detail that a few twists of the radio dial will tell you is completely unnecessary in contemporary pop music.

Most likely this is all an outgrowth of his contrary nature. Even as a child, he put little stock in what was popular with his peers, directing his interest toward things guaranteed to stigmatize him, such as, showtunes and country music. "The first rock music I saw something in was punk rock," he says. "At that time, 1976 to 1977, that was the only kind of rock music you could be sure everyone would hate. Those are frivolous reasons to be a devotee of something, but gradually I explored it and learned what was great about it."

In 1979, Frank formed his first punk band, the Bent Nails, with Byron. But even then, he was staking out his own territory on the perimeter. When the band landed their song "Revolutionary Dilettante" on the MaximumRocknRoll compilation Not So Quiet On the Western Front, they decided to send the zine pre-punk-epiphany photos of themselves with 1970s coiffures, much to the zine's annoyance.

Of course, Frank pays little mind to punk protocol. In fact, one of his greatest pleasures would send MTX's fans and even some of the band running from the room. "Country music was the first popular music I listened to," he says. "There is something about that melancholy attitude that clicks. If there weren't a George Jones, there probably wouldn't be a Dr. Frank. I feel like in my own dumb little way I'm a kindred spirit with some of those guys."

The first overt manifestation of his fetish is the Revenge... track "Hell of Dumb," a genuine country lilt complete with steel-guitar solo. But country music's influence has rippled throughout the bulk of Frank's songs in their narrative, their play on words and their one overwhelming concern. "One of the reasons sad love songs and breakup songs have a resonance is because love with a capital 'L' is something everybody is groping toward," he says. "But it's also a paradigm for ordinary human experience: Aspirations are always getting frustrated and stepped on, there is injustice, there are things that are your own fault but nevertheless feel like injustice-this is all really well symbolized by [the experience of] love, and that's why the love song is never going to be worn out."

Although MTX's last album proclaimed it's demise, love is still alive and kicking on Revenge..., although it comes in many different colors: the pure pop of "Here She Comes," the bossa nova flavored "I Don't Need You Now" and even the hillbilly standard "Some Foggy Mountain Top," featuring some inspired yodeling that would do Jimmie Rodgers proud. The album also sees MTX getting a little help from their friends, with longtime fan and Muff matron Kim Shattuck lending her distinctive voice to the backing vocals of the displaced title-track "Love Is Dead," as well as to a duet with Frank on a cover of Elton John and Kiki Dee's "Don't Go Breaking My Heart," featured as a B-side to Revenge...'s first single, "And I Will Be With You."

"Since the Muffs started, I've admired her songwriting, which is really a cut above the rest," Frank explains. "I'd always had this idea that it'd be fun to team up with her in some way, and I'd also had this idea of doing that Elton John song if I could find a suitable partner." The song also goes a long way toward fueling rumors on the Internet that have linked the two romantically. Some enterprising fans of both band's songs have deduced that there is a dialogue taking place between Frank's simpering, wounded protagonist and Shattuck's get-out-of-my-face-you-goon diva, even mapping out the progression of the "relationship" track for track. And although Frank assures that such theories are just the result of over zealous fans, it is clear he has a special fondess for Shattuck.

"I have nothing but esteem for her," he says. "When practically no one was, she was extremely supportive of what I was doing. She'd come to every single show when we went down to LA. I feel a kind of warmth towards her because of everything."

Perhaps the most noticeable change on Revenge... is in Frank's vocals. He sounds more at ease in front of the mic, confident even. Of course, playing for enthusiastic arena crowds, as MTX did when they opened for Green Day on their European tour last year, can be amazingly self-assuring. "The first time, I was so nervous my knees were shaking," Frank says. "It was 12,000 people or something-many more people than have probably seen this band in our entire existence."

There are nowhere near that many people at San Francisco's Slim's the night of Revenge...'s sold-out record-release show, but the capacity crowd is no less fervent. Frank is kneeling down at the edge of the stage talking to some fans, while Ultraman silently does battle with various mutants on the movie screen beside him. But the kids in the audience pay little attention to the film, nor do they acknowledge the danceable rhythm of Redd Kross' "Follow the Leader" blaring over the speakers. It's Labor Day weekend and these kids, on their last night out before returning to school, are radiating a tactile energy. It's unleashed minutes later when MTX launches into their first song. The whole audience pulses, pogoing in time and mouthing the words to "Here She Comes." At one point, a girl screams "I love you Frank!" from somewhere in the center of the throng, and I'm reminded of a comment Frank made months earlier. "By entertainment business standards, our following is very small," he said. "It's a small trophy that took 11 years of me bashing my head into the wall to get. But it's there, and that's something people all along said couldn't be done."